The Sawyer Dance Troupe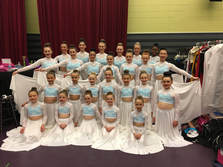 The Sawyer Dance Troupe competes at regional and national dance competitions throughout the year, hosts guest artist workshops, and represents the Sawyer Dance Academy by performing at community-wide events. Dancers in this program are extremely dedicated to the art of dance, attend classes and rehearsals several times a week, and practice outside of rehearsal times as well.

This audition-only group is open to any area dancer 9 years of age and up who has had at least 2 years of dance training. Once chosen for the group, members must be enrolled in a dance class, either at the Sawyer Dance Academy or at their home studio, throughout the school year. Our dancers compete in a variety of techniques including contemporary ballet, jazz, tap, modern, lyrical, musical theatre, and clogging.

Auditions are held once a year, usually in May. Audition information will be posted here as it becomes available.

Applications for 2018 - 2019 competition season are available. Audition date: May 2018. Dancer's wishing to join mid-season please contact Director. Contact: Deb Knuth 269-266-2119

Sawyer Dance Mini Troupe is a beginning level of competition and is for those dancers with 2 years of dance experience and are 5 years of age thru 10 years of age. There is no "audition" required for this group. This is a "1" year commitment. These dancers also attend a week long camp learning their repertoire for the 2018 - 2019 season. They attend two rehearsals a month and complete their experience with "1-2" regional competitions and Nationals 2019. Applications are due by: May 11, 2018.


---